California Proposition 68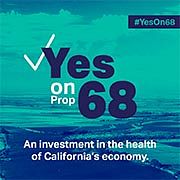 MLTPA has joined forces with local partners and the statewide campaign coalition "YES on 68!" to raise awareness, educate the public, and collect endorsements for California's Proposition 68.
Proposition 68, The California Clean Water & Safe Parks Act, is a $4 billion California bond measure that will be on the June 5, 2018 California ballot. Your support of this proposition will help direct these bond monies to the Eastern Sierra. Proposition 68 will direct $160 million to state conservancies, which includes $30 million directly to the Sierra Nevada Conservancy for eligible projects in our own backyard.
Proposition 68 needs your endorsement. Please review the materials below outlining the many specific benefits this bill will have for our state and local parks, clean water, open spaces and sustainable recreation. You can then download the endorsement form, fill it out, and send it via email to Ariel@CalEEC.com or fax to 916.720.0331.
If you have any further questions or would like more information on Proposition 68, please email MLTPA and we can talk directly, or you can reach out to Adam Little, Local Regional Representative for the Proposition 68 Campaign, via email at adam@caleec.com